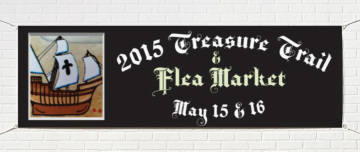 ---
Thanks for stopping by...I will try to explain the best I can but if you have a question free to call us at 618-983-5151...We are trying to create a like 100 mile yard sale with a "like" Poker Run or scavenger hunt attached to it...We are selling maps for $5.00, the money gos to The Child Advocacy Center... The people that buy a map visit the stores that are listed on the map...and get a chance to win a prizes...Each store may do something a little different...For example Pickers will have a Flea Market...

This is going to be a two day event May 15/16 2015

Details are still being hammered out as of right now the stores taking part in the Treasure Trail are...

Pickers Outlet Mall, Johnston City
Rosebuds, Colp
The Rabit Patch, Herrin
Scavenger Hunt, Carterville
Create A Smile Thrift Store, Carterville
Golden Goodies, Cambria
Interior Change, Marion
Marion Antique Mall, Marion
Your Hearts Desire, West Frankfort
Wilson's, West Frankfort


We are also looking for sponsors, sponsorship's gets there names on most of our advertising... if your company would like to help out please let us know....

This this event has the potential to become huge...not just for the stores listed above but for all of Southern IL...we can sure use your support to help it grow.

Even tho the weather worked against us we still had a great time and all the stores did well...We raised just under $2000. for The Child Advocacy Center in Herrin IL...We are starting to work on 2016 to have a even bigger one.